Relax!
Let us take care of it
Managing your property yourself could adversely affect your lifestyle! Our services and fees depend upon your day to day involvement.
How much involvement do you want?
The level of service and property management that you require will depend upon the day to day involvement that you want with letting of your property.
Ongoing maintenance and legal requirements may adversely affect your lifestyle. Are you happy taking calls from your tenant to discuss an issue with the boiler? Would you want to chase your tenant for rent arrears if they don't pay on the specified due date?
A Fully Managed service enables you to relax and let our property management team take care of everything. Your investment is hassle free as we find your tenant, deal with all of the financial aspects of the tenancy and take control of the maintenance of your property.
If you are happy to liaise with your tenant on all your property maintenance issues but don't want to get involved in the financial side of your investment, then our Rent Collection service could be for you.
If all you want us to do is find you the most suitable tenant to rent your property and are happy to deal with the ongoing tenancy, then you could go for our Tenant Find service.
We Have 3 Service Levels…
Fully Managed
An initial Set Up Fee includes all the necessary steps to secure a tenant for the property; advertising, board erection, accompanied viewings and drawing up the tenancy agreement.
A monthly management fee is then payable to look after the property and ongoing tenancy.
You can sip your holiday cocktails in peace.
Rent Collect
An initial Set Up Fee includes all the necessary steps to secure a tenant for the property and a reduced management fee is payable.
We will collect the rent and chase any arrears but all ongoing tenancy and property management issues are the responsibility of the landlord.
Dust of your toolbox and get ready to do it yourself.
Tenant Find
An initial Set Up Fee is payable to secure a tenant for the property.
There is no monthly management fee payable and it is the responsibility of the landlord to manage the property and tenancy. This includes serving all relevant legal documents and registering the tenancy deposit.
Get ready to take a crash course in lettings legislation.

 Although the service levels and fee structure were clearly laid out and very transparent, they still managed to create a bespoke package for me that suited my requirements. Just ask!
Client Money Protection
Client Money Protection (CMP) in the lettings industry refers to a scheme designed to safeguard the money of landlords and tenants, ensuring it is protected even if the letting agency or property management firm goes bankrupt or misuses the fund
Purpose: Landlords and tenants pay rents and deposits to letting agents. There is a risk that if an agency goes bankrupt, or if the funds are mishandled, these stakeholders might lose their money. CMP acts as an insurance to protect these funds.
Protection: If the letting agency fails to pass the rent to the landlord, or if a tenant's deposit is not returned due to the agency's financial troubles or dishonesty, the CMP scheme can compensate the affected parties.
Membership: The UK require letting agents to be members of a recognised CMP scheme as part of their regulatory requirements.
Segregation of Funds: As part of CMP requirements, letting agents are mandated to keep client funds separate from the agency's operational funds. This is done in a ring-fenced bank account, ensuring that client monies aren't used for the day-to-day operations of the business.
Claims: If a landlord or tenant believes they have lost money due to the actions (or inactions) of their letting agent, they can file a claim with the CMP scheme. The scheme will then investigate and, if the claim is valid, compensate the aggrieved party.
Regular Audits: Letting agents under a CMP scheme are often subject to periodic audits to ensure they are complying with all requirements, especially with regards to the proper handling and segregation of client money.
Legal Implications: In many jurisdictions, failing to be a part of a CMP scheme when it's mandated, or mismanaging client funds, can have severe legal implications, including fines and potential imprisonment.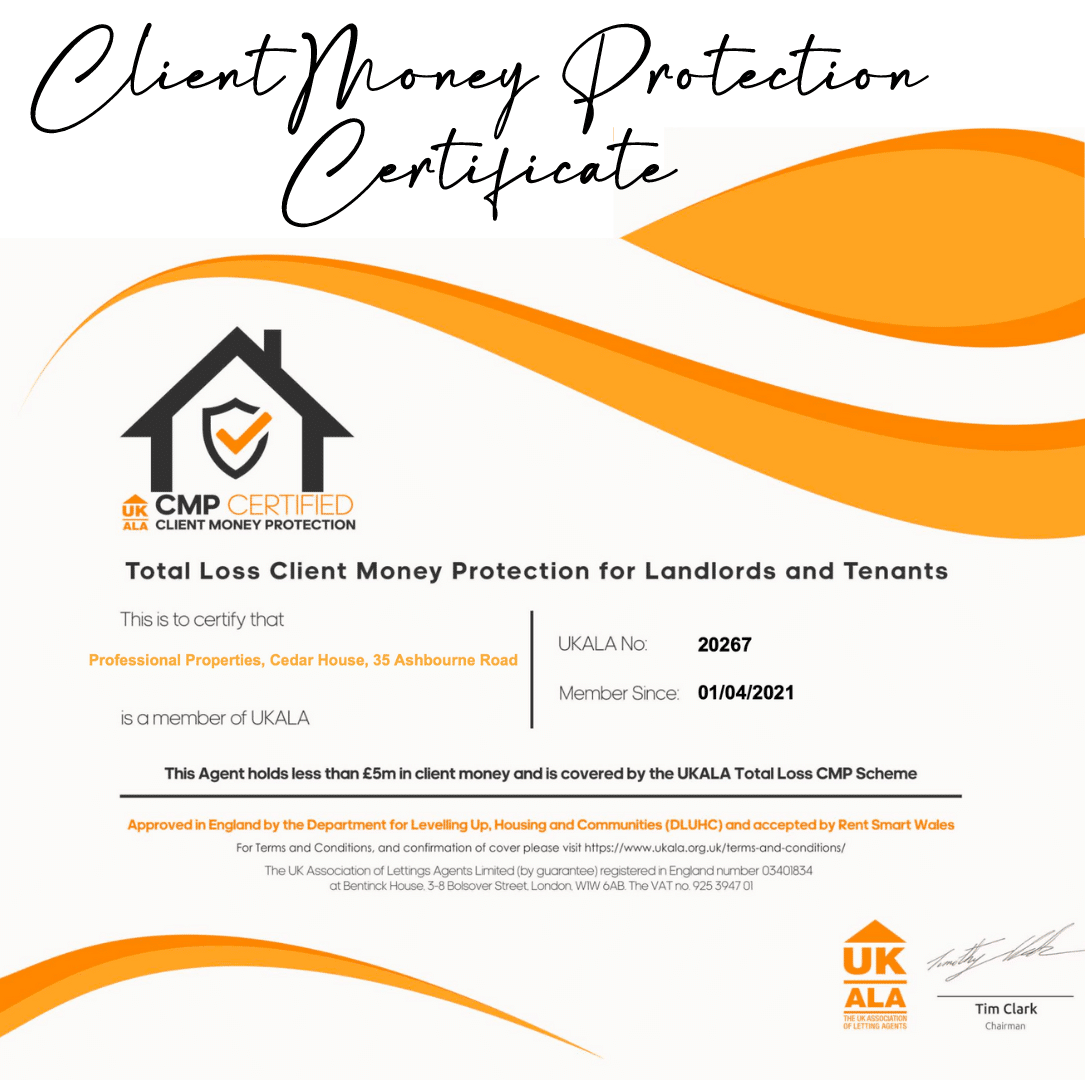 UKALA Client Money Protection (CMP) requires all members to follow specific guidelines when dealing with client money. Click below to view the handling guidelines.